A friendly wargaming club
in the home city of the Royal Navy

Portsmouth and Allied Wargames Society, Southsea Community Centre, St. Pauls Road, Portsmouth, Hampshire.
---
The 2014 English DBA Open
England's premere DBA competition will be held on Sunday 19th October 2014 at Stacey Community Centre in Portsmouth.
This will be the final event of the 2013-14 year of the Society of Ancients UK DBA League.
Please could players arrive between 9:30-10:00 am so we can close registration by about 10:15 and start the games soon after.
Trophies sponsored by
the Society of Ancients (www.soa.org.uk)


Please show your appreciation for our sponsors by visiting their websites.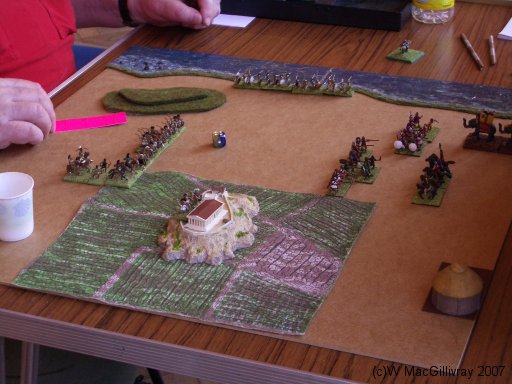 There will be one competition only this year, in 15mm using version 2.2 of the DBA rules.
Numbers permitting, players will be organised into groups of five or six players, playing the others in their group.

Players may use any army they chose for their group games.

If there is more than one group, then all group winners and possibly the best of group runners—up will progress to a final and possibly semi—finals to determine the overall winners. These finals and semi—finals may be played with themed armies provided by the organisers.
If a sufficient number of Juniors enter, there will be a separate Junior final.
There is no need to pre-enter beforehand, but please let us know if you do intend to attend so that we don't close registration too quickly if you are delayed.
For SOA Life Vice-President Phil Steele's view of the 2013 Tournament, click here.
DBA Open 2012 Rules
De Bellis Antiquitatis (DBA) version 2.2 will be used.
A "World Cup" format will be used. Initially competitors will use their own armies and terrain. Each battle will be 30-35 minutes long (45 minutes for any final).
Scoring shall be as follows:

5 points for a complete victory (as defined in the rule book);
2 points for a draw (game incomplete when time is called), if the player has destroyed more enemy elements than he has himself lost;
1 point for any other draw;
0 points for a loss.

In the event of a tie within a group the winner will be determined by:

head-head record;
most generals killed;
most camps/BUA sacked;
most elements killed (not including the extra 2 for occupying a camp/BUA).

The winner of each group (plus the best of the rest if necessary), will then play a knock-out tournament (a final and possibly semi-finals) to determine the overall winner. During the knock-out stage, competitors will secretly choose an army from all those that will be available.
If there are insufficient players to form at least two even groups, then the event may be restructured as a single group, with each player playing all other opponents. In this case, a knock-out phase may not be played.
Element selection and army aggression may not be changed between battles.
---
| | |
| --- | --- |
| You are in : | Home > 2014 English DBA Open |
---
This page, and all text and photographs on it, are copyright W G MacGillivray and other members of PAWS.
It was last updated on 10 October, 2014.
If you have any comments on this website, then please email
paws_sec@yahoo.co.uk
.
Portsmouth and Allied Wargames Society, Southsea Community Centre, St. Pauls Road, Portsmouth, Hampshire.